Email personalization - why wait?
Published on 03 Sep 2020
Personalization is a powerful strategy for companies wanting to improve customer engagement. Today's customers expect companies to show that they understand them and their specific needs, at each point in their journey with a brand. They also expect consistency in these communications, regardless of which department is sending the message.
The main objective of personalization should be to build long term relationships with customers, which leads to customer loyalty and ultimately repeat purchases (which is far more valuable than a once-off sale).
The use of personalization in communication can help companies increase sales, as it enables relevant offers and recommendations, based on a user's profile, to be included in emails. Not only does personalization in email improve engagement and customer experience, but research shows that personalized emails deliver a great ROI.
95% of companies that saw 3x ROI from their personalization efforts increased profitability in the year after their personalization efforts.
Monetate
Organizations that fail to make personalization a priority when planning their customer communication strategies, risk losing customers.
The risk associated with poor personalization is high, with more than 40% of U.S. consumers having dumped a company because of "poor personalization and lack of trust."
You may be asking: What if we don't have enough customer data to enable effective personalization in email? Where do we start?
If you don't start small, you may never start at all!
Just start! Look for the quick wins – these are your customers, they have made some form of contact with your organization, so you do know something about them.
Understand what data you have on hand, then review the various email types being sent out to your customers. For example, if you have customer billing data, you can enhance the bill notification email by inserting more billing info, such as amount due, due date etc.
Even if you just start by addressing customers by name, instead of 'Dear customer…', this is already a step in the right direction. As they continue on their journey with your brand, you will be able to collect more information about their usage or buying behavior, as well as interests, which will enable you to personalize your email communications even further.
Consider segmentation
In the initial stages of the customer's lifecycle with your brand, where there is not much customer data on hand, segmentation based on geographic, demographic or interests is an effective way to engage customers in a more personal way. It is still more effective than sending a generic communication to all.
Another point to note is considering circumstances that could affect and change their behavior.
The current pandemic is a good example. There has been a steep move to digital communication when we look at the way people interact with one another and service providers. Furthermore, many people have had a change in their finances and based on location, some areas are affected more than others. When you look at all these factors and personalize your customer communication accordingly, you're definitely on your way to having a more engaged and loyal customer in the long term.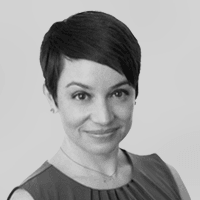 Mia Papanicolaou
COO, The Americas
We can help you create highly effective, personalized emails today!