Spruce up complicated utility bills with insightful digital customer communications
Published on 06 Mar 2020
For some providers, the monthly utility bill is the only regular communication that is sent to customers. And in many cases, that bill is not user-friendly, nor does it provide the kind of insights that today's utility consumers expect. 
A recent article published on EnergyCentral entitled Reimagining the Electricity Bill agrees that many utility bills are way too full of jargon and technical terms. They also fall short of providing information in a way that regular folks would find useful.
Today's consumers are not only interested in what they have consumed in the past, but they also have questions about managing their consumption and reducing environmental impact in the future. 
Another challenge mentioned, is that utility bills are too lengthy and the information is presented in siloes that reflect the organizational structure rather than the customer's needs.
How to improve the CX of utility billing
The solution from the article is to apply 'design thinking' to improve the CX of utility billing and provide information that customers will value, in a way that they can use.  
But, what about those utilities that cannot, for whatever reason, redesign their bill?  Do they just have to settle for their one customer touchpoint being distinctly customer unfriendly? 
Our expert's view on utility bill redesign:
When the design of a utility bill has stayed the same for many years, you can be sure that the information is not presented in a way that customers find useful.
Bill redesign is something we frequently write about, so there is no argument from us on how important it is to use the utility bill as a positive customer touchpoint.
But, some utilities are limited as to how much they can influence bill design. It may be that the cost of redeveloping the bill is just too high, or the system integration needed to pull the desired information together is just too complex.
In the case of public utilities, billing may be restricted by regulatory compliance, meaning the bill has to contain certain information by law.
The question is: can these utilities become unstuck from their lengthy, technical, jargon-filled bills?
The answer – they certainly can.
If the time is not right to redevelop the utility bill – there is nothing stopping the utility from sending supplementary communications that provide the insights customers are looking for.
Digital communication channels, like email, are an ideal way to supplement the utility bill with information that is presented in a visual and easy to understand way.
Regulatory or budgetary restrictions should not stop utilities from becoming more customer-centric. Sending useful and relevant information via email or text will provide a great complement to the utility bill.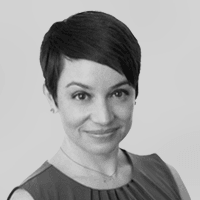 Mia Papanicolaou
COO, The Americas
You are just a click away from improving the CX of your utility organization's billing…
Striata is a leading provider of digital customer communication solutions that improve customer experience and advance the digital transformation of a company's communication strategy.