4 Ways AI can transform customer touch-points in insurance
Published on 20 Sep 2019
The insurance sector has certainly made headway in incorporating artificial intelligence (AI) into back-office processes, such as speeding up claims and detecting fraud. 
But the application of AI has been more focused on operations than enhancing customer experience (CX). Often, this can be traced back to the primary driver for implementing AI. If the objective is cost-cutting, then operations is the right place to focus.  
But the real magic will be realized when AI is applied in ways that build relationships and increase the overall value of the customer. 
Which begs the question: 
"How can AI be used to transform customer touch-points and enhance interaction?" 
Our expert's view:
Improving the insurer-customer relationship requires fostering a sense of trust, which means incorporating technologies like AI into communications in order to enhance the customer experience (CX). 
A customer that enjoys interacting with their insurer will be more engaged, more loyal and more likely to respond to new products and services. 
Here are four ways to employ AI that will enhance CX. 
1. Hyper-personalization
The first step is to personalize each communication to the customer using data on hand (demographic, geographic, purchase history).  The next step is to use AI to predict future behavior in order to provide the next best offer. AI can identify the offer that is most likely to result in action from the customer.  
2. Customizing customer journey touch-points
Most insurers are already recording when and how a customer interacts with them. But this has not yet translated into smarter communications. Using AI, each customer touchpoint can be highly customized, based on current interactions with the customer, but also bringing in outside factors like weather. This builds trust.
3. Integrating communications with voice tech
Voice-enabled devices have become more prolific and integrated into our lives. Conducting information searches, writing shopping lists and even making purchases, are quick to do using voice. Why not enable customers to initiate claims and renew policies through Amazon Echo or Google Home device? Now, that would be a great customer experience.
4. Including chatbots in each touch-point
Chatbots are common in customer service, but they haven't really featured in communication. Yet integrating chatbot functionality into a message is relatively simple. Having the ability to engage with a chatbot directly from an email communication adds convenience for the customer.  
These are just four examples of how AI can already be used by insurers to enhance each interaction they have with customers. Just think of what's going to be possible in the future.
Watch our webinar entitled: Insurers will not survive if they don't fundamentally embrace AI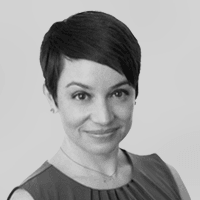 Mia Papanicolaou
COO, The Americas
Keen to continue exploring AI in insurance?
Striata is a leading provider of digital customer communication solutions that improve customer experience and advance the digital transformation of a company's communication strategy.