Meet our security guru Chantelle van Wyk, Global IT and Security Manager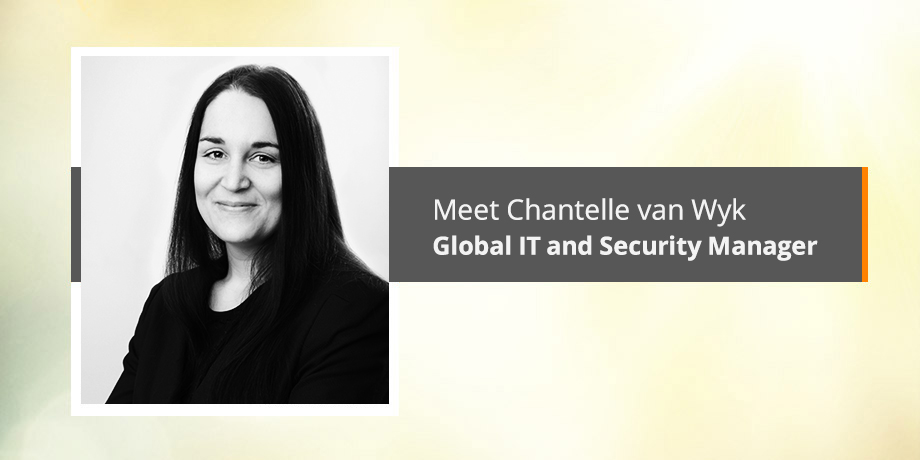 In this post in our blog series where we shine the spotlight on our executive staff members, we introduce you to our security guru, Chantelle van Wyk, Global IT and Security Manager
Chantelle believes that a security culture is an organizational culture. "Ultimately, you want to achieve a strong culture of security that becomes a fundamental part of your organizational behavior." Read on to find out more about what Chantelle appreciates most about working for Striata and her opinion on how digital transformation will challenge security professionals in the coming years…
What's your backstory (how did you come to be working for Striata)?
I had been working internationally, auditing and consulting for market leaders such as Symantec, Rackspace Hosting and KPMG, but when I moved back to South Africa, I found myself wanting to rather be part of shaping and planning a company's security future. I am very passionate about information security and was excited to work for Striata and see how I could apply my skills in the digital customer communication space.
What do you appreciate most about working at Striata?
Striata's culture sold me on the position. The very first day I walked into the office, Striata was having a "retro" fun day. I had to dodge traffic cones on the floor and there was all sorts of fun decor hanging from the ceiling. The buzz in the office reminded me of a "family and friends" culture and I immediately knew it was a company I wanted to work for.
You work for a digital company, what is it about digital that you are passionate about?
Digital transformation means that things are always changing! I'm excited to see how technologies like artificial intelligence and machine learning can improve data security and the security industry as a whole.
How do you think digital is going to change your life personally in the next 5 years?
We'll continue to see an increasingly paperless environment. My kids are already using tablets instead of textbooks at school, researching things online and doing their assessments on mobile apps.
Being in the security industry, I sometimes worry about their privacy and how to protect their digital identities. Are they aware enough to have all this access?
Fortunately, legislation like POPIA and GDPR are adapting to protect our private information online.
How do you think digital is going to change businesses in the next 5 years?
Digital transformation will challenge security professionals in the coming years. Traditionally, security has been compliance driven. With the new age of digital transformation and the speed of change, security professionals need to learn to align and adapt because the business will move on with or without them. The key for security professionals is to manage risk, build trust and embrace change to support the business objectives and strategies.
Do you think a company's culture is an important aspect of information security?
It is essential.
A security culture is an organizational culture, where not only are all the right security protocols in place, but the correct behavior and response to security becomes subconscious, instinctive and effortless.
This is all about individuals doing things right the first time. Ultimately, you want to achieve a strong culture of security that becomes a fundamental part of your organizational behavior.
What does 'digital investment' mean to you?
For me, digital investment is gearing up to be efficient. Especially with the security skills shortage, we don't want to waste resources on things that can be automated.
It is always important to make sure there is a fast return on investment. It is easy to spend money on systems but they actually need to show results.